Being able to recognize the warning signs of roof damage helps you know when to call Mid Peninsula Roofing for an inspection and repairs. Our experienced roofing and solar energy contractors offer routine roof inspections to catch problems before they start. If you notice any warning signs, such as interior damage, decayed shingles, or loss of granulation, then it's likely time for your home to have a new roof put on by our team of professionals.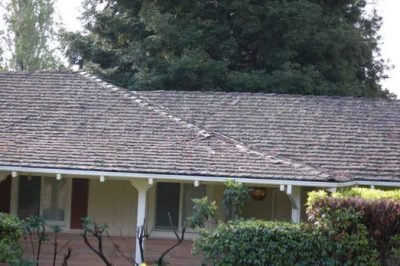 Most wood shingle roofs last for about 20 years, but damage may take place before the expected lifespan has passed. If your roof is more than 15 years old and has problems such as broken or damaged shingles, curling shingles, or missing shingles, you may need a new roof. Loss of granulation, visible leaks or cracks, hail damage, or the presence of only one layer of roofing are all indicators that a new roof is needed. Wind damage, sagging or leaking gutters, and broken downspouts can also be related to roofing problems. These issues can also cause water to build up against your home's foundation and result in even more issues, such as water flowing into your basement. Rust, poor alignment, cracked seams, pools of water in the gutters, or visible holes in the gutters are also a cause for concern. Your home's siding could also show problems, including peeling or blistering paint, wood rot, warping, corrosion of aluminum siding, or a need for frequent repainting.
Our experienced roofing and solar energy designers and consultants can identify all types of roofing issues. We offer prompt repairs for roofing and solar energy systems and services to prevent small problems from worsening. Call us at Mid Peninsula Roofing for emergency repairs of your rooftop or solar energy system.
Call us today at 650-375-7850 to schedule a consultation with one of our roofing and solar energy systems professionals.
Contact us if you have noticed damage to your roof. We proudly serve residential and commercial customers in Burlingame, California, and throughout the Bay Area